Total Pest Protection In Raleigh, North Carolina
Founded in 1792, the capital city of Raleigh, NC is known as one of the best cities to live and work across the U.S. It's a diverse metropolis with 9,000 acres of parkland, giving residents the best of all worlds. However, we're not the only ones who like it here. Local pest populations are eager to settle down here in Raleigh, and that means our properties are susceptible to the nightmare that comes with pest infestations. The best way to protect your home or business from an infestation is to rely on a team of pest experts.
Ready Pest Solutions is a local, family owned and operated company that services Wake and Durham Counties and the surrounding areas with complete residential and commercial pest control solutions. We dedicate ourselves to enhancing our customers' quality of life by bringing them comprehensive pest solutions they can rely on. We don't just treat the symptoms; we treat the true core of the infestation, solving your pest problems from the inside out. Call us today for your free inspection.
Residential Pest Control In Raleigh, NC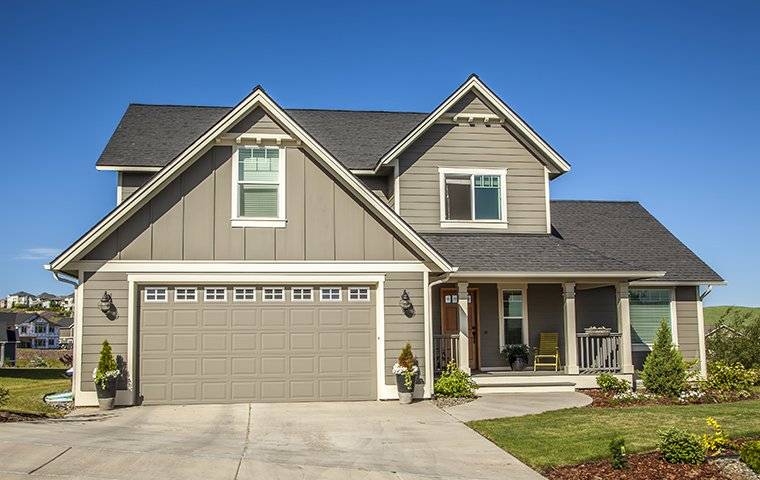 If you want to guard your Raleigh residence from a household pest infestation, there's only one way to go: professional pest control services. Here at Ready Pest Solutions, we provide complete residential pest control treatments you can depend on.
Interior
We seal up entry points and access points around plumbing and perform targeted applications and crack and crevice treatments.
Exterior
We provide de-webbing and de-nesting, treatments of soffits and eaves, doors and windows, and where the siding meets the foundation. We perform a perimeter foundation treatment and landscaping treatment up to five feet from the house.
We've serviced over 1,000 local homes with complete pest control solutions, guaranteeing year-round results that homeowners can trust. We care about the safety, health, and welfare of the public, and the environment, always making it our goal to enhance the quality of our customer's lives. Whatever your pest needs, give us a call today. We're eager to help.
Commercial Pest Control In Raleigh, NC
It's important to protect your Raleigh business from pests, and we're here to help. Our team services a broad range of commercial properties, such as doctor's offices, office buildings, warehouses, single and double family duplexes, daycares, and hotels. Our commercial pest control process entails the following:
Inspection
Common areas, offices, maintenance areas
Pest activity and access points
Exterior entry points to detect access
Plants, shrubs, and conducive conditions
Services
Targeted interior applications to cracks and crevices
Strategic monitoring stations in break rooms, kitchens, mop rooms, etc.
Exterior entryway treatments around perimeter
De-webbing and de-nesting
Our staff has trained with the Entomological Society of America. We are licensed in structural pest control and ground application for ornamental turf and public health. Basically, "we take care of what's bugging you!" Contact us to discuss your commercial pest control needs further, and we'll get the process started right away.
Three Signs You Need Termite Control For Your Raleigh Home
Termite damage is completely devastating; it's costly, it's dangerous, and it's threatening on every level. Detecting termite activity early on can make a huge difference in how much damage they cause. Below are three signs of termite activity to keep in mind:
Wings discarded on the floor near doors and windows
Damp, damaged, or weakened wood that sounds hollow when you tap on it
Mud tubes in the ground traveling to openings along your foundation
If you find any of these indications, call in the pest professionals right away. The team at Ready Pest Solutions is here to help you with comprehensive termite control services. We will detect all termite activity, damage, and conducive conditions. Then, we'll put in place the proper preventative measures to keep them out of your Raleigh home moving forward.
How To Identify & Stop German Cockroaches In Raleigh
German cockroaches are the smallest cockroach species. If you're not sure what they look like, there are some basic identifying features to note. They measure one-half to three-quarters of an inch long, and they have oval-shaped bodies. Their coloration is yellowish-brown, with two short, black stripes running horizontally from the back of their head to the base of wings.
If you want to prevent German cockroaches around your Raleigh property, you should keep in mind some helpful prevention methods. First, it's important to clean up any messes quicky, as cockroaches are attracted to food spills, residue, and waste. Next, also important to address any moisture problems, as cockroaches love heat and humidity.
In the end, the best way to guard your home or business against German cockroaches is to get help from pest professionals. Ready Pest Solutions has the experience to successfully remove and prevent these intruders in the future. Give us a call today for all of your cockroach control and prevention needs.
Request Your Free Inspection
Complete the form below to schedule your no obligation inspection.