The Trick To Completely Getting Rid Of Mice In Your Holly Springs Home
December 15, 2022
Mice are all-too-common pests that people deal with all the time in Holly Springs. Not only are they common, but they're dangerous and difficult to get rid of on your own. The reason mice are so common is that they can easily get inside a home and quickly multiply once inside.
Mice can penetrate your home through openings no larger than the width of a pencil. Any torn window screen or uncaulked crevice is akin to leaving the front door wide open for these dangerous, disease-infested rodents. Once inside, they quickly set up shop by building nests in remote sections of the home and breeding. Not only are they efficient breeders, but due to the lack of natural predators or harsh weather, they live much longer in your house than they would in nature.
Learn how to identify a mouse infestation, why mice are so dangerous to your health, and why mouse traps fall short. Once mice are inside your home, you need professional help to get rid of them completely and keep mice away in the future. Luckily, Ready Pest Solutions has been dealing with mice as an integral component of our top-notch pest control in Holly Springs for years.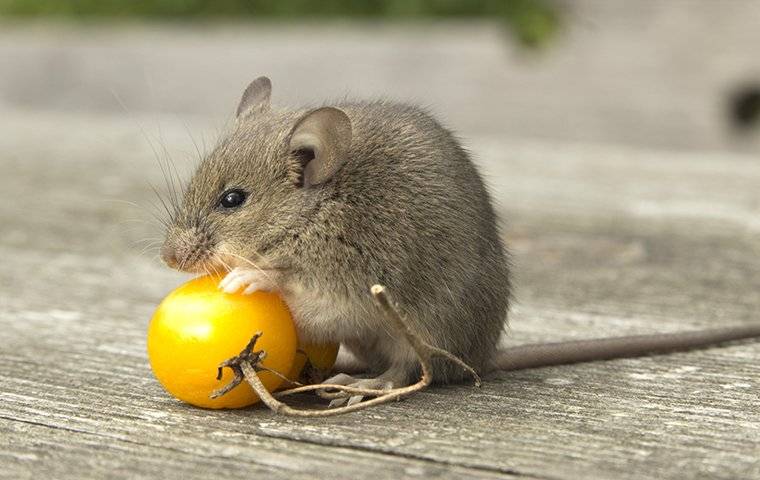 How To Identify A Mouse Infestation In Your Home
Mice are nocturnal, so identifying an infestation may not be as clear-cut as a sighting. During the day, keep a keen eye out for the following hints that you are hosting these unwanted visitors:
Feces and urine
Chewed wood trim
Bite marks on foot and food containers
Rub marks
Noise coming from the attic or basement
Runways and nests
Believe it or not, your dog or cat may be the first to alert you of a mouse problem. Pay attention if your dog is honing in on a specific part of the house or is demonstrating a particular amount of alertness.
Why Having Mice In Your House is Such A Health Risk
Mice are dangerous pests to have in your home. Rodent teeth never stop growing, and they deal with this by continuously chewing. Your house is full of things for them to gnaw on. Sometimes this is your crown molding, and other times it's your electrical wiring. When mice chew on electrical wires, it can cause house fires, which can cause fatalities. As if property damage weren't enough, mice spread dozens of diseases, some of which include:
Hantavirus
Tularemia
Leptospirosis
Salmonella
Hantavirus can lead to Hantavirus Pulmonary Syndrome (HVS), which can be fatal. While you may think you can only contract hantavirus or some other disease via a mouse bite, that is not the case. In fact, the most common way to acquire hantavirus is to come in contact with mouse feces, urine, or saliva. If you have signs of a mouse infestation, be sure not to touch any of the matter they leave behind. It can be hazardous to the health of you and your family. The only way to be completely safe is to eliminate mice right away.
Why Mouse Traps Aren't Enough To Get Rid Of An Infestation
Mouse traps are an ineffective way to get rid of a mouse infestation. Mouse baits and traps might deal with a mouse or two, but the longer the traps are in your house, the more the mice know to avoid them. Not only are mouse traps unproductive at exterminating a mouse problem, but they also don't address the origins of the infestation in the first place. In order to get rid of mice for good, you need a comprehensive plan to locate the pests, eradicate them, and prevent them from penetrating your home in the future. That's where the pros come in.
Call The Pros At The First Sign Of Mice In Your Home
The founders of Ready Pest Solutions bring with them decades of pest control experience in getting rid of all degrees of mouse infestations in Holly Springs. We have industry-leading quick turnaround time and can get your home within 24 hours! So call us today for a free inspection. We'll come out to your home, locate the pests, devise a plan to exterminate all different types of mice, and prevent them from endangering you and your loved ones again.