The Effective Mouse Control Solution For Your Holly Springs Home
January 15, 2023
"EEK, a mouse!" is the last thing anyone wants to hear a family member yell out. Holly Springs pest control companies know that winter is the time for mice to enter our homes, seeking shelter, food, and water.
Knowing the signs of a mouse infestation is critical to stopping them before the problem gets any bigger. Mice reproduce rapidly and will quickly become an entire infestation.
Because of the multiple diseases mice carry, it is essential to know the signs to look out for and to contact a local pest control company immediately. Getting rid of mice is not a DIY job. Pest control companies know the best mouse pest control techniques and how to prevent them from returning.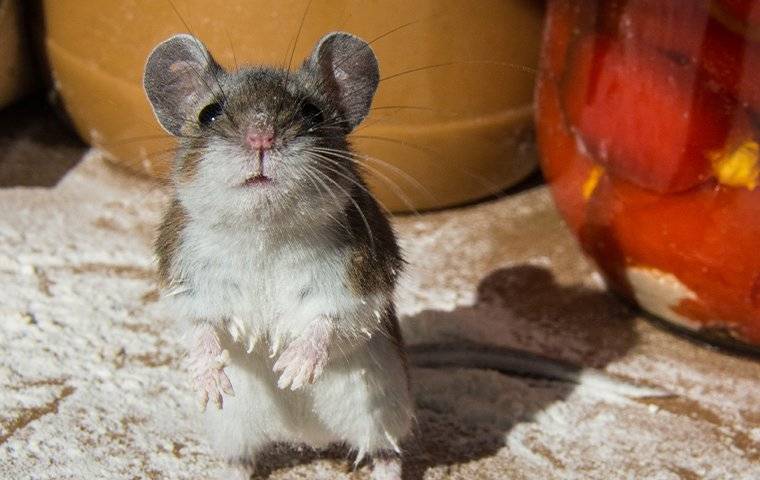 How To Identify A Mouse Infestation In Your Home
There are several ways to identify a mouse problem in your home. Some signs of a mouse infestation include:
Gnaw marks in your home that may appear rough or smooth. Mice have front teeth that never stop growing, so they constantly need to gnaw on things.
Mouse droppings that measure about ⅛ inch to ¼ of an inch and are long, rod-shaped, and have pointed ends.
Mouse droppings in the kitchen can cause many health problems.
House mice nests using nesting materials such as insulation or stuffing from the furniture.
Damaged food packages; mice prefer grains, cereals, and seeds.
House mice tracks throughout your home. They leave 4-toed prints from their front feet and 5-toed prints with their hind feet.
Seeing an actual rodent; this is a sure sign. If you see even one mouse in the house, there is likely a whole family.
Watching out for any signs of mice can help you stop an infestation before it starts.
The Dangerous Diseases Mice Are Known To Spread
There are so many diseases mice carry that can infect us in various ways. Mice are known to cause hantavirus pulmonary syndrome and rat bite fever, but that's just the beginning. Mice can carry as many as 200 human pathogens!
Mouse droppings in the kitchen can lead to food contaminated by salmonella, which causes symptoms like diarrhea, fever, and abdominal pain. Dust of dried mouse droppings can cause allergies. Tiny droplets of mouse urine can cause allergies and asthma flare-ups in children. Mice bring fleas, ticks, mites, and lice into your home, creating an even bigger health problem.
Why DIY Mouse Control Is A Waste Of Time And Money
House mice breed rapidly; a female mouse can give birth to half a dozen babies every three weeks! This fast reproduction rate can quickly turn a small mouse problem into a severe infestation. A mouse infestation will not go away by itself and will only worsen if left untreated.
The internet offers many DIY pest control ideas for getting rid of mice. It is a waste of precious time and money trying out these ideas. Unfortunately, they do not work and can endanger your family and pets. The best mouse pest control is finding a local company that knows where to set traps and how to eliminate them from your property.
Contact The Pros At The First Sign Of Mice In Your Home
Getting rid of mice when you notice the first signs of a mouse infestation is critical. Ready Pest Solutions, Inc. is your local go-to for any mouse problem. We will help you eliminate mice from your home. We can also provide some extra mouse prevention tips to help keep them away for good. Call today to schedule your no-obligation inspection.