Tackling Termites In Holly Springs
March 15, 2023
Termites are pests that are notorious for compromising the structural integrity of homes. Every year, they are responsible for billions of dollars of property damage in the United States alone.
North Carolina, unfortunately, isn't safe from termites. Termite identification can be difficult, and so can termite removal. Luckily, you don't have to do either of those things alone. If you need termite pest control in Holly Springs, give us a call at Ready Pest Solutions today. We take care of what's bugging you!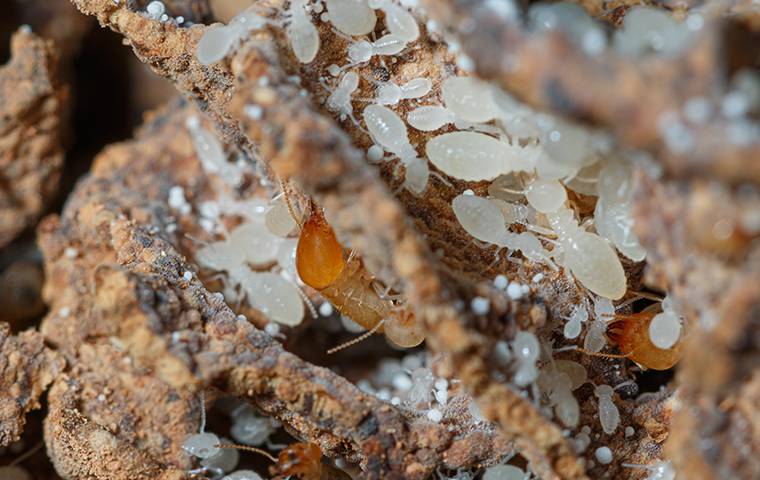 The Types Of Termites Found In Holly Springs
There are different kinds of termites in the United States, but you're most likely to find subterranean termites in Holly Springs. The most common types of subterranean termites found in our city include Eastern subterranean termites and imported Formosan subterranean termites.
Subterranean termites are termites that usually live underground and cause property damage as they move up into a structure. These termites are considered social insects because they live in a colony or a nest. Only one acre of land is enough to simultaneously support a multitude of subterranean termite colonies.
Signs Of Termites To Watch Out For Around Your Home
It's important to be aware of different signs of termites so that you can take action as soon as possible, before any existing property damage becomes worse. Understandably, however, many homeowners often report that termite infestations have gone undetected for long periods of time. Without routine, professional inspections of your home, termites can stay undetected for years. Some signs of termites include:
Mud tubes
Finding discarded wings by windowsills
Bubbling paint
Damaged wood
It's important not to panic if you believe that termites are in your home. Simply make arrangements to contact the pest management professionals here at Ready Pest Solutions.
Removing Factors That Attract Termites
Removing the different factors that attract termites to North Carolina homes can keep your Holly Springs home safe from an infestation. Here are a few factors to remove in order to deter termites:
Piles of wood near the home
Soil that is in contact with wood
Bright outdoor lights
Holes or cracks that can serve as an entry point for termites
Rotten or decayed wood
Improper drainage
Excessive moisture
Remove debris inside and outside your home
Water damage inside your home or near the foundation
After you've done your part by removing any factors that attract termites to your home, the next step is to contact the professionals. For your well-being and a number of other reasons, we highly discourage pursuing "do-it-yourself" methods of termite removal. For one thing, merely spraying the surface of infested wood kills a few termites, but it does not remove the termite problem beyond the surface. Only a complete inspection completed by professionals followed by professional-grade treatment can safely and effectively deter and remove termites.
The Secret To Total Termite Control For Holly Springs Properties
The best way to get rid of termites with as little hassle as possible is to call our team at Ready Pest Solutions. We're a locally owned and operated company that is here for the sole purpose of serving our loyal customers and helping our Holly Springs community. We believe in improving the quality of life of all our customers in our community by defending their homes against unwanted pests. Termites, especially subterranean termites, are no exception to this belief. All the while, we will always ensure that we have proper regard for the safety, health, and welfare of the public and environment while treating your property for termites.
Our team is here to help you. If you have a termite problem, call Ready Pest Solutions for a free inspection today!