How To Get Rid Of Roaches In Your Holly Springs Home
November 15, 2021
Did you know that cockroaches can live for up to a week without their head? It's true! They only die from not eating or drinking, and they can also go a month without eating and a week without water. This is only one small fact that speaks to the formidability of cockroaches.
The most common cockroaches species in the Holly Springs area are German, American, and smoky brown. These species share the following traits of six legs, a pair of folded wings, and antennae. While some species can fly, most prefer to crawl or run.
German cockroaches are light brown with two dark stripes behind their heads and are about ½ to 5/8 of an inch long. American cockroaches are 1 ¼ to 2 1/8 inches long and are usually reddish-brown with a yellowish figure eight on the back of the head. Smoky brown cockroaches are 1 ¼ to 1 ½ inches long with a uniform dark brown coloring.
Any species of cockroach in your home is bad news. As a Holly Springs resident, you should know just how bad they are, how to get rid of an active infestation, and what you can do to prevent them.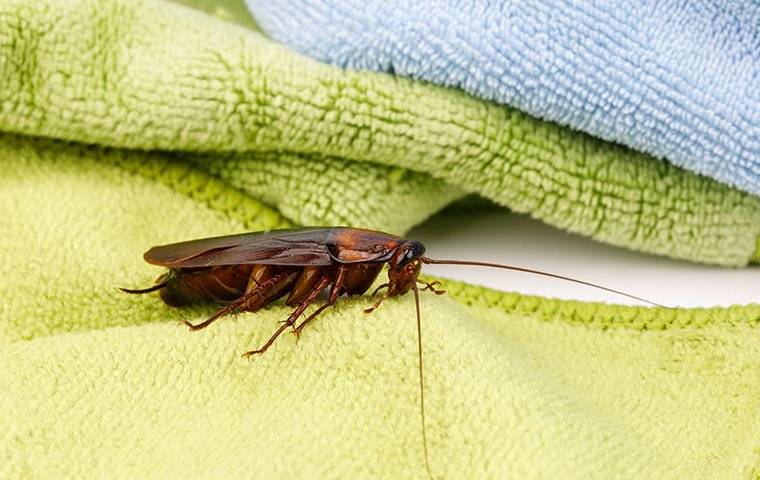 Just How Bad Are Cockroaches?
Cockroaches are well known for the dirty places they inhabit, consisting of sewers, dumpsters, and other unsanitary locations. Cockroaches pick up dangerous pathogens in these places, carrying them to residential properties and making people sick. So not only are cockroaches gross, but they are dangerous too. Cockroaches can spread diseases such as cholera, typhoid fever, giardia, leprosy, salmonellosis, listeriosis, dysentery, gastroenteritis, E. coli, staphylococcus, and more.
When cockroaches get into a home, they contaminate everything they touch with their feces and shed skin. This includes food, personal hygiene products, and surfaces. On top of that, they can also trigger asthma and allergies.
Cockroaches constitute a significant risk to the health and safety of anyone that comes into close contact with an infestation.
Why Are Cockroaches So Difficult To Get Rid Of?
Eliminating a cockroach infestation on your own is nearly impossible. We already told you about their ability to survive without their head, but did you know they continuously become more resistant to traditional pesticides? This means that the products you can purchase over-the-counter (OTC) are no match for this pest.
Because of this, you should contact the experts at Ready Pest Solutions for total cockroach elimination. With our home pest control services, you can keep you and your family safe from this dangerous pest.
We always start with a detailed inspection to identify the source of the problem. This helps us understand what pests we are up against, how they are getting in, and the problem areas.
The initial treatment will target harborage areas using full interior and exterior treatment. We will also seal up the places where pests are getting in.
For follow-up visits, we will regularly retreat the exterior, and upon request, the interior.
Can Cockroaches Be Prevented?
Once your home is cockroach-free, you will want to avoid future infestations. To do this, use the following tips:
Identify and seal up potential entry points.
Store food and trash properly using airtight containers and bins with tight-fitting lids.
Declutter your home regularly to catch an infestation early and eliminate hiding places.
Clear yard debris such as leaves, excess foliage, and unused items.
Address moisture issues like leaks and poor ventilation.
Don't forget to call us at Ready Pest Solutions for advice and assistance with cockroaches and other pests you might be dealing with.