Ew! Why Are The Roaches In Holly Springs So Smelly?
July 15, 2022
Cockroaches have plagued humanity for thousands of years. Cockroach infestations are a common problem across the country, and Holly Springs is no exception. They are disgusting, unsanitary insects that carry all kinds of pathogens and bacteria, and they spread these germs to your home. Cockroaches transmit diseases such as salmonella, E. coli, cholera, and dysentery.
These pests can also emanate foul odors for various reasons. The common types of cockroaches found in North Carolina are American cockroaches, German cockroaches, and Oriental cockroaches. They all have an unpleasant, distinct smell, but the Oriental cockroach is the stinkiest of the three. If you notice the smell of cockroaches, that's a good indication that an infestation is already present in your home.
A cockroach control problem is challenging to eradicate without the help of professionals. It's best to contact your local Holly Springs pest control company at the first sign of cockroaches. Ready Pest Solutions is a family-owned business providing services in the area for over 25 years. Call us to learn about the cockroach treatment and prevention plans available to you.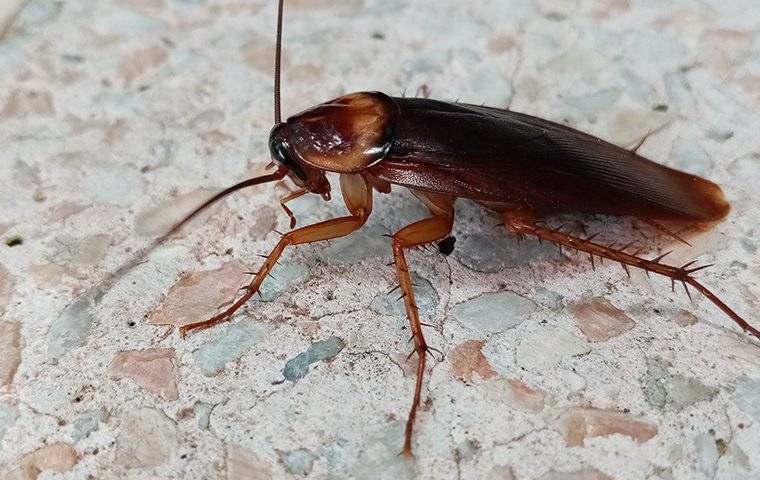 Roach Smell: What Do Roaches Smell Like?
Cockroaches and their nests can put out some pretty nasty odors. The scents they emit all have a particular purpose for other cockroaches in the vicinity. To humans, it's just a terrible, stinky nuisance. But it is a sign of a possible cockroach infestation and shouldn't be ignored.
These smells can range from an oily, musty odor to a sweet, acidic aroma. Roaches can even have a horrible rotting stench. The scents that cockroaches send out attract other cockroaches to a nest or act as a warning. The strength of the odor depends on the severity of the infestation and where the roaches have been living.
One of the smells is from an "aggregation" pheromone that they release in their feces to attract cockroaches to their nesting site. As the population of the nest increases, the more intense the smell will get. The scent can vary depending on their food source. Another odor is their "death stench." Cockroaches emit this scent when they die to warn other cockroaches that an area may be dangerous and to stay away. This smell is barely noticeable to humans.
Why Do Roaches Smell So Bad?
Most cockroaches are attracted to moist, damp areas. These types of places are often already contaminated with mildew and mold. They also thrive in unsanitary environments like garbage and sewers; they coat themselves in this bad-smelling habitat and take it everywhere they travel. These odors can get quite horrible as the number of cockroaches increases.
Plus, as these pests travel around your home, they leave their foul-smelling droppings in their paths. Over time, the stench can get overwhelming.
How To Get Rid Of Cockroach Smell In Your Home
The first order of business is to get rid of the cockroaches. If they aren't removed from your home, the problem will only resurface, possibly worse than before. It is imperative to locate their nesting sites as they are the primary source of the odor. Since their nests and feces carry pathogens and bacteria, it is of utmost importance to use the proper protective gear and cleaning materials.
Completely ridding your home of cockroaches and the smell of them is not your average do-it-yourself project. Instead, let an experienced and reputable pest control company take on a job like this. Ready Pest Solution's technicians are trained and certified in residential and commercial pest control measures.
Repelling Cockroaches In Holly Springs
One way to avoid that horrible cockroach smell is to prevent them from entering your home. You can do several things to make your home less attractive to cockroaches:
Get rid of piles of rotting leaves and logs in your yard.
Make sure all garbage cans have lids that close with a good seal.
Don't leave pet bowls full of food for long periods.
Inspect your doors and windows for a tight fit, and check around the house for any cracks and crevices.
However, your best bet for repelling cockroaches is a treatment and prevention plan. Ready Pest Solutions has safe and effective cockroach solutions to fit your needs and budget. Contact us to learn more about the programs we have to offer.