Are Termites Still Active Around Holly Springs?
September 15, 2023
Many homeowners feel instant fear when they hear the word "termite." This is because these little creatures are extremely destructive. A matured termite colony can destroy your home in just a matter of months. While these tiny insects may be more active during the warmer months, termites can cause just as much destruction in the colder months.
At Ready Pest Solutions, we can help keep your home safe from termites all year long. We have been providing thorough pest control services in Holly Springs for years, and we know the proper way to handle these destructive bugs.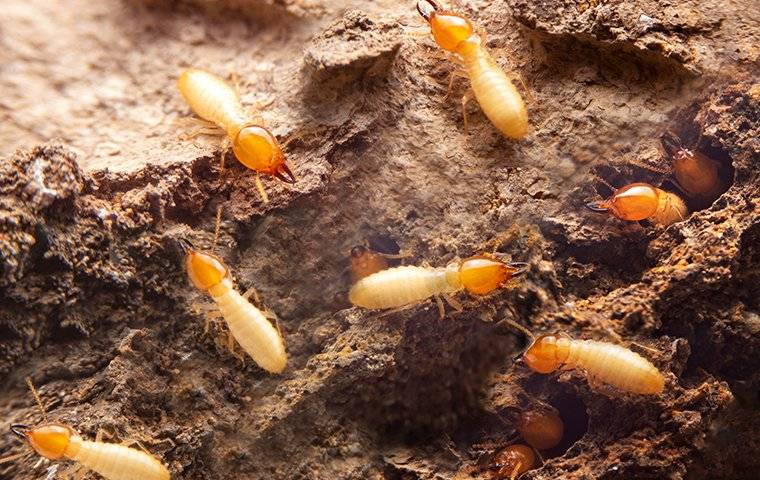 Termite Seasonality: When Do Termites Infest Homes In Holly Springs?
Termite season lasts for a long time in Holly Springs. These bothersome bugs are most active when the temperatures are consistently at or above 70°F. When the weather starts to warm up, the reproductive termites will use their wings to fly away from their current nest to look for a mate and start their own nest. In Holly Springs, this can happen as early as February but will usually start around March or April.
While termite swarming season will start in the early spring, these flying termites have been spotted in late summer and even in the early fall. If you see these flying termites, also known as termite swarmers, it could mean they are getting ready to build a nest and start a new colony on your property. If you see flying termites or their discarded wings around your home, contact us for effective termite control services in Holly Springs as soon as possible.
Why Fall Temperatures Can Trigger Termite Activity
In North Carolina, the autumn months have mild temperatures and termites like warm and moist areas. Additionally, this part of the state usually receives substantial rain. When you combine the moist soil and wood with the warm fall temperatures, you have a perfect setting for termites to thrive in.
When termites invade your home, they burrow deep inside the wooden surfaces, allowing them to stay active even during the cold winter months. Getting a professional termite inspection performed on your home before the temperatures drop below 60°F is always a good idea.
Termite Warning Signs To Look Out For This Fall
Termites in Holly Springs are sneaky and elusive little creatures. You could have several hundred termites living in your home right now and not even know it.
When our termite inspectors are inspecting a home, some of the things to look for include the following:
Bubbling or peeling paint
Excessively squeaky floorboards
Wooden surfaces that are soft or brittle when touched
Wood that sounds hollow when you tap on it
Discolored spots on your walls
Small holes in the drywall
Holes in wood surrounded by jagged or rough surfaces
While you probably won't see a termite in your home, you will likely find several clues that termites are on your property. If you see any of these signs in your home, you should contact a termite exterminator immediately.
Why Every Holly Springs Home Needs Professional Termite Protection
In Holly Springs, termites can cause problems around your home all year. At Ready Pest Solutions, we can remove these destructive pests from your property and prevent them from returning. Reach out to us today to get started and to learn more about our residential and commercial pest control services in Holly Springs.