Ant Control 101: A Helpful Guide For Holly Springs Homeowners
August 15, 2023
The Holly Springs area is home to many types of ants, and while each one is attracted to different conditions, they all enter our homes through the same means. Effective ant control in Holly Springs means learning about the behaviors of these pests and the openings in your home. It's a tall order for homeowners, but is it impossible?
Getting (and keeping) ants out of your home is simple when you have professionals from Ready Pest Solutions on your side. As leaders in Holly Springs pest control, we have the knowledge and tools to keep your home safe against ants and other pests. Keep reading to learn more about ants and how Ready Pest Solutions can show them the door.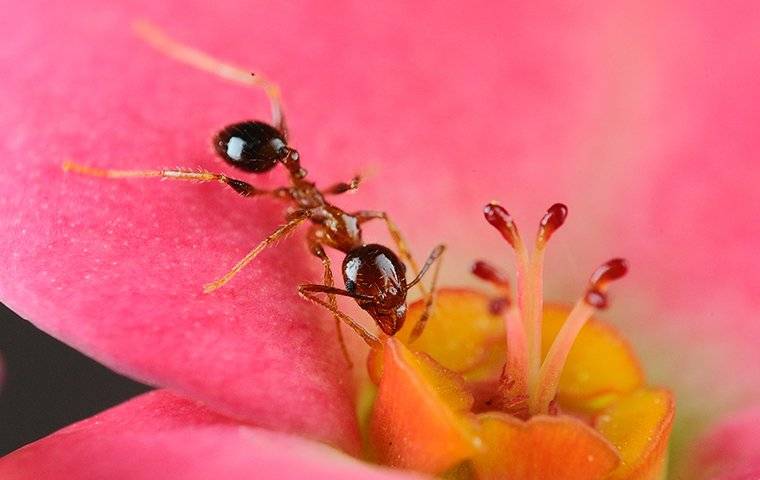 Ant Behavior: Social Hierarchy And Communication
Not all infestations are like an ant infestation. These pests have a notoriously rigid social hierarchy and roles to play in their colonies. While we may get the impression of chaos from watching their activity, it's actually tightly controlled.
Most ants in a colony are workers, and they live to serve one or more queens, who lay eggs to produce more workers. Workers dig tunnels, gather food, and defend the colony from invaders. They sometimes find their way into our homes looking for food or shelter; when they do, they release a pheromone trail that guides other workers.
When you see an ant or two in your home, it can be difficult to tell where they're coming from and how close other colony members may be. But the comprehensive inspections provided by Ready Pest Solutions will uncover this and more. We'll reveal the full extent of your infestation and start planning a treatment solution. Call us today to schedule your free inspection.
Assessing The Risks: The Problems Created By Ant Infestations
Some ants in Holly Springs have painful bites and stings. Others, like carpenter ants, can damage parts of your home. But all ants pose a contamination risk. They pick up and deposit dangerous bacteria like E. coli as they crawl throughout our homes; this becomes especially dangerous if ants get into your food.
Professional ant control in your house will not only protect your home, but it can protect your health as well. Our treatments target your home inside out to attack pests and harborage spots while sealing the openings they used to get inside. Our dual-pronged approach does more to protect you for longer.
Ant Prevention Tips: Keep Your Home Ant-Free
Simple ant prevention tips go a long way to keeping your home free of these dangerous pests. All you need to implement them is a keen eye and a willingness to change certain habits. Here are just a few ant prevention tips:
Remove standing water from your property
Seal cracks in your home's exterior
Repair holes in your window and door screens
Install door sweeps
Clean up immediately after food preparation and regularly sweep for crumbs
Keep your food sealed in appropriate containers
With the Ready Pest Solutions team on your side, you'll have access to our extensive pest control knowledge. We strive to educate customers during every step of the treatment process so they'll be better able to protect their homes going forward. It's one way we're working toward a better Holly Springs.
Professional Ant Control: A Great Way To Keep Ants Out For Good
People often try DIY ant pest control methods only to find they don't offer the desired results. Instead of wasting your time and money chasing home remedies, you can put your faith in the Ready Pest Solutions team. We'll work diligently to address all your concerns as we show pests the door. Reach out to us today for the most effective home pest control in Holly Springs.